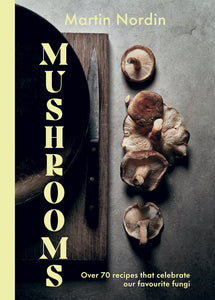 Mushrooms are the perfect ingredient, especially now when so many people are looking for alternatives to meat. They offer deep, rich umami flavours and a distinctive texture. And there are countless cooking techniques: boil, fry, oven roast, grill, bake, dry…
Whether you're an avid mushroom forager or would rather not risk picking your own, this cookbook is for you. In addition to dishes with the usual suspects, such as button mushrooms or portabello, Martin Nordin guides you through the large selection of different mushrooms available in nature and in shops, such as chanterelle, porcini, oyster, shiitake and enoki.
In this book you will find recipes for everything from soups and broths to mushroom skewers, pizzas and mushroom sandwiches, often paired with scintillating spices or hints of sour, pickled or smoked flavours.